Level 1 Edition 2: Myth & Magic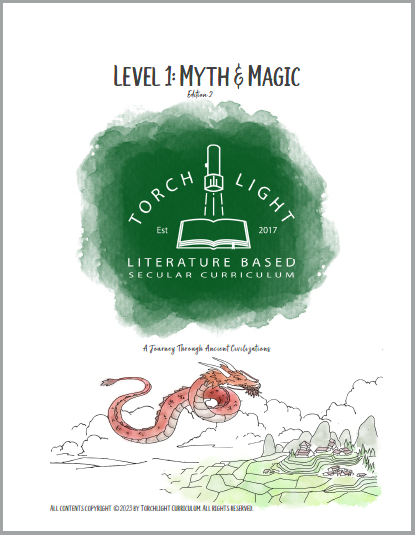 Torchlight's Level 1 curriculum for learners ages 6-9 is entitled Myth & Magic. In Level 1, a large focus of our literature studies is reading analysis through Socratic-inspired discussion. Myth & Magic uses the art of story with historical fiction and non-fiction to focus on history and culture, exploring social norms, both Ancient and modern, to build understanding, empathy, and character. Works of cultural mythology allow us to practice logic and reasoning, the skill to decipher fact from fiction and learn to appreciate both. We will study great people and events with the addition of human complexity, i.e., the grey areas. 
Torchlight Level 1 has multiple options for the sciences. Scientific Connections through Inquiry: Level 1, integrating four scientific strands, is scheduled into this level. We also offer an additional (or alternate) option of Human Body Studies with an engaging graphic novel spine, Human Body Theater, with hands-on activities and videos to help learners get to know the bodies. On top of these stellar options, you will also explore ecosystems that support life, from coral reefs and redwood forests to those life-supporting systems that are threatened due to Global Warming. Torchlight always uses a central science theme but includes integrated studies of different sciences to align with our history or literature studies.
Torchlight Level 1 will take us around the ancient world from early people to the Fall of Rome, and we will listen to the ancient and cultural myths that were told around a crackling fire between families of old and some still today. Myths tell us about what a culture of people held in the highest esteem, the challenges they once faced, and the questions they sought to answer. Aru Shah takes us through her trials as we listen to her inner dialog of growth and change. We observe Minli on a grand adventure to discover the true meaning of happiness. Nadia will teach us about anthropology and help us answer tricky questions about respect and scientific discovery.
Seeing the ancient world through the life of a child using A Child Through Time will help learners relate, making ancient studies accessible, and the incredible maps in When on Earth? help to bring clarity to complex historical facts.
We will go on an adventurous journey with Ash, Oak and Thorn and cook up delectable edibles with Madame Pamplemousse, Solve mysteries with Precious, innovate, and even save an innocent Egyptian girl from punishment for a crime she did not commit.
With Wishtree, Red (a wise old oak) helps us see how two children from different backgrounds shine a light on intolerance and learn what we need to do as a community to heal. Book Uncle & Me Teaches us about age-appropriate community activism and the importance of books and solidarity.
Art, like science, will have multiple options as well! Clay Lab is scheduled within this level to take advantage of a huge developmental opportunity, commonly between the ages of 5-7, for great leaps in writing ability. Learners of this age develop coordination and finger strength in spurts, and what better way to facilitate this growth than with great hand-strength exercises that clay work can provide, not to mention that clay was a common art medium in ancient civilizations and can help learners active listening when they have something sensory to play with. However, writing can still be taxing and even painful for some learners, so we encourage learning partners to scribe for their learners when appropriate, and we are thrilled to offer an alternate art option through Soul Sparklettes Art. You can find details and a full art alignment document in our Member Resources area after purchase.
Level 1 will introduce Pantomime Poetry, a cross-body movement learning opportunity and an engaging way to learn and memorize poetry. Each piece of literature is accompanied by a Torchlight Literature Primer, which will give you insight into the book's purpose within Torchlight, vocabulary, possible concerns to watch for while reading, and Socratic discussion opportunities that will prepare you without tying you to a script, making for more natural and authentic conversations.
Myth & Magic will also include a Vocabulary Journal (Vocabulary Spell Book) to help engage your learner in the acquisition, writing, using, and remembering of new words. To further your learner's writing skills without struggle, you will both be taking part in a year-long project (Our Book of Myths) that incorporates art, creative writing (with or without a scribe) and reading, not to mention excitement and a special memento. 
Lastly, your learner will partake in many activities, including cryptography (deciphering messages in ancient languages), art, short-form writing (scribe optional), and games to instill all the wonderful literary learning.
Daily and Weekly Lesson plan with prep pages for 36 weeks of:
Literature, Pantomime Poetry, Vocabulary, History, Mythology, Science, Art & Music.
Linked book list
Full list of alternate books for older/sensitive/repeat learners for added flexibility and reuseability
Weekly library checklist
Linked media within each lesson
Additional linked

Supplemental book list
Supplementary App, media, and games list

Extension activities for seamless further learning within each week
Torchlight's Progressive Geography Inquiry Lessons
Torchlight's exclusive Literature Primers Include:

Torchlight's intent when scheduling the book (educational value)
Vocabulary
Notes on secular and ethics breaches prior to scheduled readings
Socratic-inspired discussion outlines

A year-long project that incorporates art, creative writing, and reading (Our Book of Myths)
Vocabulary Journal (My Vocabulary Spell Book)
Ancient languages Cryptography Decoder & activities
List of linked alternate/replacement books for easy tailoring of the program to suit each family's needs
Original games and activities to solidify learning and skills
Recommendations for Math and Reading & Writing programs

The recommended Reading & Writing program is very thorough and includes comprehension, grammar, punctuation, copy work and dictation in the appropriate levels.
Guide: 208 pages (recommend printing double-sided)
Our Book of Myths: 41 pages (recommend printing double-sided, but some learners might prefer single-sided for extra space or a brainstorming space)
Level 1 Literature Primers: 72 pages (recommend printing double-sided)
Vocabulary Spell Book: 163 pages (can print most pages double-sided. However, you might want to reprint a few at the end of the file as single-sided and laminate for activities.
Weekly Library Booklist: 9 pages (recommend printing double-sided)
Level 1 Booklist