Level Pre K: Curiosity & Character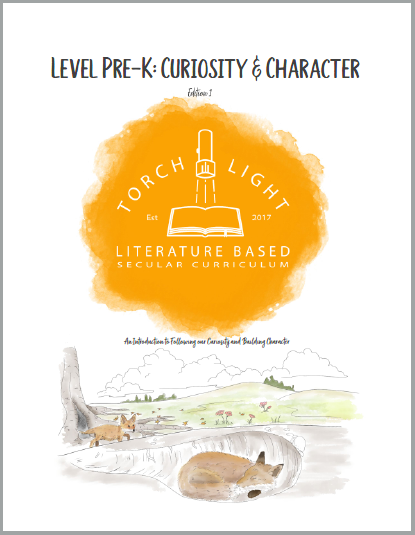 Welcome to Torchlight's Level Pre-K, a curriculum created for learners ages 4-5. Pre-K is the time to develop curiosity and wonder, healthy learning habits, character, and executive function skills. A love for learning is paramount in this foray into Torchlight. Level Pre-K is structured around themed weeks of playful learning that follow a seasonal timeline.
Torchlight Pre-K: Curiosity & Character uses an inquiry method to drive learning. Topics are presented in an engaging picture book each week, then are further explored throughout the week via art and science. Using Art Lab for Little Kids, your learner will be creating weekly art inspired by a unique art piece. Each project includes a tie-in challenge that allows your learner to incorporate the weekly theme into their work of art. Science will be an integrated approach which includes nature studies, engineering, and general science topics. Scientific inquiry is presented weekly through Nature's Wonders, which allows opportunities for rabbit trails and weekly library trips to help encourage interest-led learning and ownership.
Math in Torchlight Pre-K is a three-prong approach. First, we start with engaging hands-on lessons with Preschool Math at Home to learn the basics. Then, we turn to natural math, exploring how math applies to us and the world we live in with many whole-body activities to develop a mathematical mindset. Lastly, Torchlight provides an optional monthly math inquiry table set-up with instructions, books, and a materials list where your learner can explore and play with math concepts (coming soon).
Torchlight Pre-K has the rare, but important inclusion of lessons which aid in the formation of executive function skills. Emotional intelligence and coping skills are woven throughout each week with A Whole Bunch of Feelings presenting a wide range of emotions and what they might look like for some people. I Heard Your Feelings conversation cards help learners to engage in observing emotionally charged situations via animal interactions and discuss what they see and how each situation could play out with different choices. Breathe Like a Bear is a wonderful toolkit for teaching coping skills to handle difficult emotions.
Curiosity & Character is about making connections. The year-long Connections Project will tie the weekly lessons back to your learner with small projects that will help your learner apply the subject matter of the week to themselves and their family. Weekly field trip opportunities or community connection ideas will also be listed for each of the 32 weeks. If you have not yet noticed, Level Pre-K will include music! Music has been found in multiple studies to increase brain connectivity, learning, and retention, not to mention it's engaging and fun!
Pre-literacy will be taught in a light and fun manner using the magic of song with the Doodling Dragons book and album. This approach to letter sounds will give early learners a head start by teaching all letters sounds (short, long, and broad) each letter makes from the very beginning. Curiosity & Character's goal is exposure and comfort with pre-literacy skills. Integrated games will be sprinkled throughout the program to revisit and practice letter sounds that have been previously presented.
Torchlight Pre-K aims to connect young learners to their world and themselves. Torchlight Level Pre-K: Curiosity & Character will be available early 2019! Sign-up for our newsletter and like our facebook page for updates.
Daily and Weekly Lesson plan with prep pages for 32 weeks of:
Literature, Poetry, Pre-Literacy, Emotional Intelligence, Math, Science, Art & Inquiry.
Linked book list
Weekly library checklist
Supplemental book, app, media, and games list
Multiple Extension activities for seamless further learning within each week
Torchlight's Connections Year-long Project
Original games and activities to solidify learning and skills