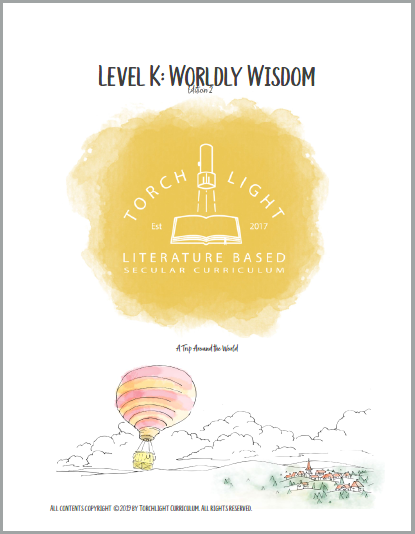 Welcome to Torchlight's Level K, curriculum created for learners ages 5-7. However, you may find these learning plans flexible enough to bring up and alter down to ages 4-8, with the addition of ability-appropriate reading and math. The included science component is recommended for ages 4-7, an additional outside program can be used to adjust it to the upper age limit (We recommend adding additional Be Naturally Curious units or using R.E.A.L. Science Odyssey starting in Level 1 or 2). The basis of Level K is exposure to all the academic disciplines and to inspire a love of learning and reading. Learners will continue to transition through focused studies as the levels progress. Worldly Wisdom uses the art of story to focus on world culture, building character, and the study of great women and men throughout history. Torchlight also includes a unique, robust exploration of science for Level K. The material is intentionally varied with the hope that many concepts will grab your learner's attention and lead them to explore. In some cases, you will notice that a whole series of books have been included. This provides consistency, which tends to resonate with young learners. They will get to know the characters and give them a familiar face to look forward to within their lessons.
In order to understand our cultural tapestries, you must first become acquainted with the threads that make up the whole. Torchlight – Level K (Worldly Wisdom) will take you and your learner on an around-the-world tour, solving mysteries with the home-schooled twins in Greeting's from Somewhere**, Ethan and Ella. You will refine your palette, cultural knowledge, and cooking skills in The Cultured Chef ** with far more than just recipes. Prepare to be regaled with stories from abroad and learn about cultural celebrations in A Year Full of Stories and What Do You Celebrate? along with an abundance of fictional tales and non-fiction read aloud selections.
What is a worldly introduction without a healthy dose of wisdom? In Level K you will explore psychology and build character with Mali & Keela**, the ancient fables of Aesop, and take thoughtful outings with Stillwater in the Zen series by John Muth.
There is even more wisdom to be gained through laughter and the loving efforts of Missy Piggle-Wiggle (Mrs. Piggle Wiggle's niece) and the children of Little Spring Valley. With magic in the air, you will visit the town of Broomsweep and meet Ivy and her Grandmother as they heal magical creatures and learn to navigate intolerance while staying true to themselves.
Explore science through story and hands-on learning with a multitude of sources including Be Naturally Curious units, Zoey & Sassafras' adventures in caring for magical creatures, Big Science for Little People, and Grandmother Fish. Your learner will explore animal science with the Atlas of Animal Adventures** and learn about habitats, life cycles, and evolution. You will also be amazed at what you can learn about science through poetry. Song of the Wild will delight readers with facts about the animals that share our world and Koo with teach your learner their first poetry form, a Haiku. Torchlight gives you the option of choosing alternatives for science, Earth Science and Dinosaurs.
Level K will round off your journey with an introduction to some truly great people from all over the world that helped mold our societies, including scientists, explorers, artists, musicians, peacekeepers, and inventors with 101 Amazing Women Who Changed Our World, a collection of wonderful picture book biographies, Classical Kids audio theater, and other wonderful books.
Your learner will have exposure to so much that makes our world great and learn where each of these people and their cultural contributions come from through map reading and inquiry-based Geography lessons –a method based in Socratic questioning.
This will all be tied together with Torchlight's Global Connections year-long project. Your learner will also be invited to be a Torchlight Trek virtual travel-writer each week, imparting what they learn, what they are curious about, and what they recommend to other would-be travelers.
Included in Level K Worldly Wisdom (Digital PDF only – therefore non-refundable):
Daily and Weekly Lesson plan with prep pages for 36 weeks of:
Literature, Poetry, Character Building, Science, Social Studies, Art, and Cultural Studies & Cooking.
Linked book list
Linked media within each lesson
Additional linked

Supplemental book list
Supplementary App, media, and music list
Supplementary bedtime story recommendations

Extension activities for seamless further learning within each week
Torchlight's Progressive Geography Inquiry Lessons
Notes on secular and ethics breaches prior to scheduled readings
Question and discussion reference sheets
List of linked alternate/replacement books for easy tailoring of the program to suit each family's needs
Original games and activities to solidify learning and skills
Recommended Math and Reading & Writing programs

Our recommended Reading & Writing program is very thorough and includes comprehension, grammar, punctuation, copy work and dictation in the appropriate levels.
**Alternates available.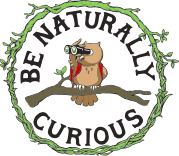 Upon purchase all Torchlight Level K users will receive a 60% off code for the Level K Be Naturally Curious bundle


Receive a code for the special Torchlight bundle (33 stories that aligns with Torchlight K) for up to 60% off
Label K Edition 2 Booklist