Level 4: Ideas & Identity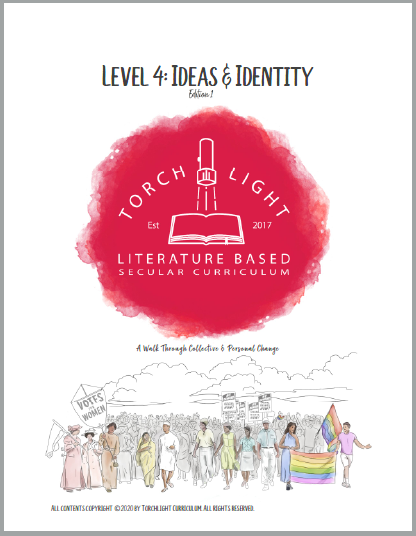 Torchlight's Level 4 curriculum for learners ages 9-13 is titled Ideas & Identity. In Level 4, we arrive in the modern era. We have seen people strive and thrive along our historical journey and in the modern era, we see a new form of the uprising for change and progress, the modern protest! We will study different movements for change and how they impacted history.
We will be adding to our art curation and analysis skills from Level 3 by learning art movements and styles. Learners will be distilling information about art styles to create a reference guide for an end-of-year trip to the museum (virtual or otherwise), learning more about art and gaining note-taking skills in the process. Deep thought and reflection are laced throughout our year with philosophical studies that will allow learners to ruminate on how they see the world while stretching them to consider new ideas and how they want to act and interact with others. We will also be learning the overarching works of philosophers throughout history. We ground this with some logic studies: game logic, to be exact! Learn about how games are designed, how they affect our brains and help us learn, and design your own game, from components to a rule book, along the way.
Communication will also be a common thread throughout Level 4. From protest to philosophy, humans have found ways to be heard; now, it is your learner's turn to take part in fun and impactful activities that help them hone their communication skills. We will be guided through a long-term creative writing project with Brave the Page, in conjunction with National Novel Writing Month (NaNoWriMo) and become published authors! We will also be working on our communication skills with a bunch of monster friends to assist us.
Level 4 literature is filled with historical fiction, resistance, adventure, and grand philosophical questions, among other themes. Each of these will be approached using Torchlight's Literature Primers, which provide insight into the book's value, vocabulary, possible concerns to watch for while reading, and inquiry-based discussion opportunities that will prepare you without tying you to a script, making for more natural and authentic conversations. We ponder the question of immortality's worth, explore the value and price of war, and the resilience of the human spirit. Level 4 poetry will have your learner discovering poetic forms and creating their works in the same style.
Science will be an integrated approach using Scientific Connections through Inquiry (SCI) Level 4 and a collection of the amazing Science Comics series. Within Science Comics, we will learn about the human brain, skyscrapers of the modern era, the creation, failures, and final success of flying machines, and study the amazing world of trees.
Fiber arts and mini art missions, based on art styles they learn, will take us through Level 4 while we introduce each art movement. We will also be reading about a plethora of ballets with the option of viewing live performances each the ballets that interest your learner the most and listening to the orchestral pieces that accompany them.
We will continue to view the modern world through the life of a child using A Child Through Time to help learners relate and make historical studies accessible. The incredible maps in When on Earth? will bring visual clarity to complex history and geography. Within Level 4 we are also providing a bit more choice. The History Book will be one of our modern history spines until Curiosity Chronicles Modern is made available. You will then be able to choose which history spine works for your family. We have a few more history spines to add depth to our studies this year and bring a more balanced perspective. We have also scheduled two history extension spines for the more visual learners among us!
Get ready for an eye-opening year of learning with Torchlight Level 4: Ideas & Identity!
Daily and Weekly Lesson plan with prep pages for 36 weeks of:
Literature, Poetry, Vocabulary, History, Science, Arts, Philosophy & Game Logic.
Writing and editing opportunities linked to the literature.
Linked book list
Weekly library checklist
Linked media within each lesson
Additional linked

Supplemental lists (books, apps, media, etc.)

Extension activities for seamless further or elevated learning within each week
Torchlight's exclusive Literature Primers Include:

Torchlight's intent when scheduling the book (educational value)
Vocabulary
Notes on possible secular and ethical issues prior to scheduled readings
Socratic-inspired discussion outlines

Torchlight original long term novel or short story writing project.
Vocabulary Journal (My Vocabulary Spell Book)
List of alternate/replacement books for easy tailoring of the program to suit each family's needs
Original activities to solidify learning and skills
Recommendations for Math and Grammar (added by learning partners)